Waterproof Bike Handlebar Bag Front Bicycle Dry Pack Large Capacity Cycling Front Storage Bag for Road Bike MTB Mountain – SAHOO >>> top1shop >>> tiki.vn
Waterproof Bike Handlebar Bag Front Bicycle Dry Pack Large Capacity Cycling Front Storage Bag for Road Bike MTB Mountain
Made from quality material, waterproof, wear tear resistant and easy to scrub. 11L large capacity can store all your necessities from short trip, designed for cycling enthusiasts, nice choice for daily life or short journey.
Features:
Roll up deign, good sealing performance, keep your valuables dry.
11L large capacity can meet your demands on different occasions.
High-quality waterproof material, easy to scrub.
Detachable design for a long service life.
Easy to install under help of strong adhesive fastener tape, without involving any tools .
Sturdy buckle for added safety and stabilization, protect items from slipping.
Reflective logo enhances visibility and safety at night.
Wide Application: can be installed on mountain bikes, folding bikes, road bike.
Specifications:
Material: PVC net clamping cloth.
Color: Black.
Capacity: 11L
Size: 41 * 17 * 17 cm / 16.1 * 6.7 * 6.7 in
Weight: 347 g / 12.2 oz
Package List:
1 * Bicycle Bag
Giá sản phẩm trên Tiki đã bao gồm thuế theo luật hiện hành. Bên cạnh đó, tuỳ vào loại sản phẩm, hình thức và địa chỉ giao hàng mà có thể phát sinh thêm chi phí khác như phí vận chuyển, phụ phí hàng cồng kềnh, thuế nhập khẩu (đối với đơn hàng giao từ nước ngoài có giá trị trên 1 triệu đồng)…..
SAHOO
tiki.vn/waterproof-bike-handlebar-bag-front-bicycle-dry-pack-large-capacity-cycling-front-storage-bag-for-road-bike-mtb-mountain-p79671409.html
tiki.vn


Code Embed: No embed code was found for TOP1VIETNAM-tiki.vn
Code Embed: No embed code was found for TOP1VIETNAM-SAHOO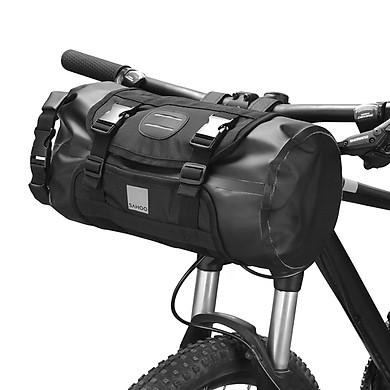 Waterproof Bike Handlebar Bag Front Bicycle Dry Pack Large Capacity Cycling Front Storage Bag for Road Bike MTB Mountain – SAHOO >>> top1shop >>> tiki.vn